Windows 10 Remote Desktop not working after Windows 10 upgrade
Remote Desktop is a useful function built-in Windows 10 Professional or Enterprise Version. With it, you can access and control one computer from another computer without physical presence. Sometimes, you'll find out Windows 10 RDP not working after upgrade and it comes with an error message saying "Remote Desktop can't connect to the remote for one of these reasons:
1) Remote access to the server is not enabled
2) The remote computer is turned off
3) The remote computer is not available on the network
4) Make sure the remote computer's turned on and connected to the network, and the remote access is enabled.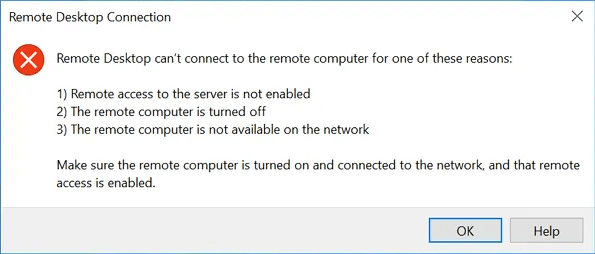 My Windows 10 Remote Desktop used to work well before the update. Is there any suggestion of Remote Desktop not working? Thanks in advance!
Effectively fix Remote Desktop not working in Windows 10
Remote Desktop not connecting to remote PC can be caused by various elements, including wrong system configuration, firewall settings, unstable network connection, and so on. To address the problem effectively, you can check whether you input the correct computer name of the remote PC. And then reboot your PC. If RDP is still not working, you can try more solutions presented in the following content.
Solution 1. Allow Remote Desktop in Firewall settings
First of all, make sure that network connection works well and the remote desktop is turned on. If Remote Desktop still cannot connect to another PC, you can check whether Remote Desktop app is allowed in Firewall. Here are the detailed steps:
Step 1. In the Search box, type "firewall" and open Windows Defender Firewall.
Step 2. Click Allow an app or feature through Windows Firewall and click "Change settings".
Step 3. Now, you can locate Remote Desktop and check "Private" and "Public". Then, click "OK" button to save changes.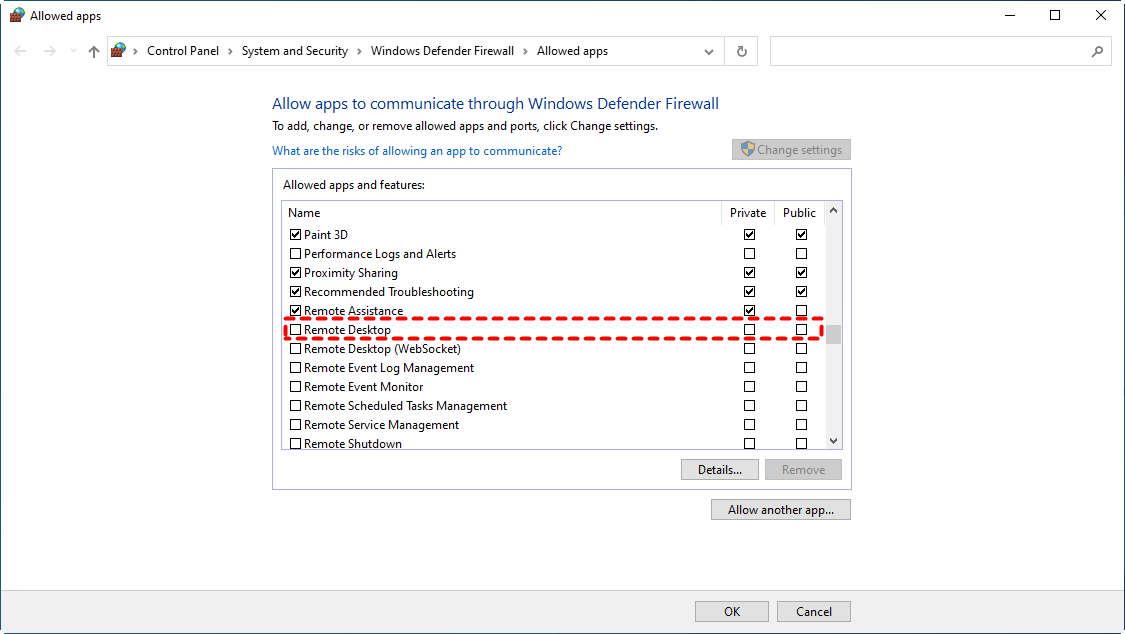 If there is something wrong with the network, you can click "Start" button and go to "Settings" > "Update & Security" > "Troubleshoot" > "Network Adapter troubleshooter" to see whether the problem is solved.
Solution 2. Disable WDDM in Group Policy Editor and reboot your PC
For Remote Desktop cannot connect after Windows 10 upgrade issue, disable DWM and reboot computer is worth trying. Do the following steps:
Step 1. Press "Windows" + "R" at the same time, input "gpedit.msc" and press Enter to open "Group Policy Editor".
Step 2. In Group Policy Editor interface, go to "Local Computer Policy" > "Computer Configuration" > "Administrative Templates" > "Windows Components" > "Remote Desktop Service" > "Remote Desktop Session Host" > "Remote Session Environment" > "Use WDDM graphics display driver for Remote Desktop Connections".
Step 3. Double-click "Use WDDM graphics display driver for Remote Desktop Connections" and choose "Disable". Then, click "OK".
Step 4. Reboot your PC and see if RDP can work.
Solution 3. Check the status of RDP Services in Services
If Remote Desktop Services is not started, you can encounter RDP not working problems as well. To check the status of RDP Services, follow the steps below:
Step 1. Press Windows + R simultaneously, input "services.msc" and hit Enter.
Step 2. Find out Remote Desktop Services in the listed items, right-click it and choose "Properties".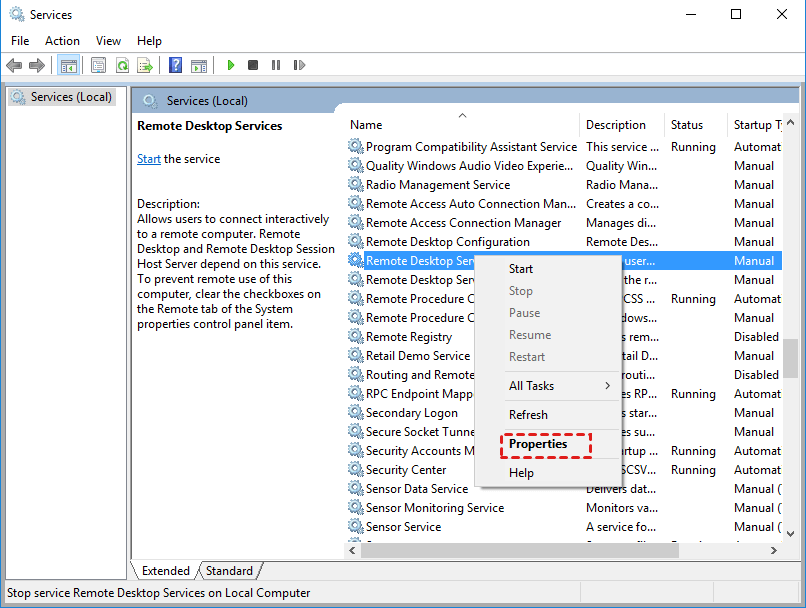 Step 3. In this window, you can check the status of Remote Desktop Services.
Solution 4. Add a new key in Registry Editor
To solve RDP can't work issue, you can adjust settings about Remote Desktop in Registry Editor.
Note: Since Windows Registry holds all the configuration of your Windows PC, it's advised to back up registry value before adjusting.
Step 1. Press "Windows" + "R" at the same time, input "regedit", hit Enter, and click "Yes" to open Registry Editor.
Step 2. Go to the following path:
HKEY_CURRENT_USER\Software\Microsoft\Terminal Server Client.
Step 3. Right-click the blank place on the right side and go to "New" > "DWORD (32-bit) Value". Then, name the value "DGClientTransport".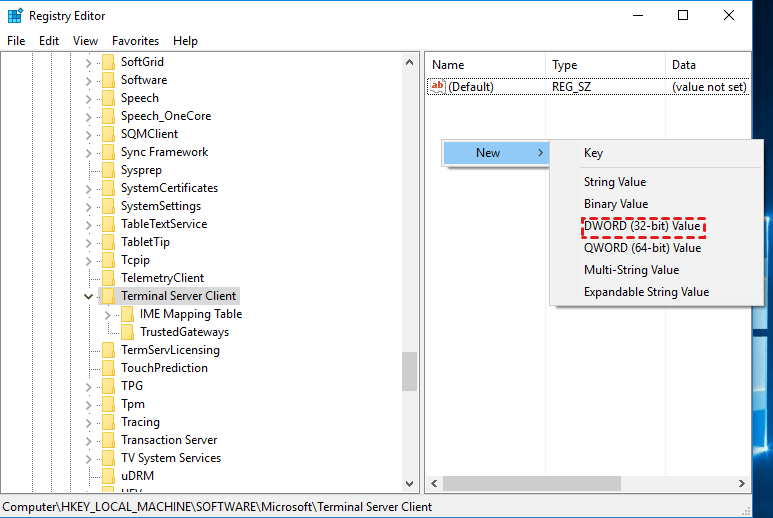 Step 4. Double-click the new key, choose Properties, and set value data to 1. Then, click "OK" and exit from the window.
Step 5. Reboot your computer to make the change into effect.
Solution 5. Revert Windows to the previous version
If the solutions mentioned above is invalid for the Remote Desktops not working after Window upgrade, you can revert the Windows to a previous version where the application work normally.
Step 1. In the Search box, type "system restore" and choose it from the result list.
Step 2. Click Next, choose a restore point, and click Next.
Step 3. Confirm the restore point and click "Finish" to revert your PC to its previous status.
Employ Windows Remote Desktop alternative
If you consider the whole process to fix Remote Desktop not working issue is a lit bit complicated, you can turn to a reliable alternative to Windows Remote Desktop for remote connection. Here AnyViewer is recommended because its intuitive interface and quick connection. Free download and see how it works.
Step 1.  On the PC that you want to control, install and run AnyViewer.  Keep the Device ID of it. Then, go to Settings > Recipient, enable "Set my security code" and type your security code. 
Step 2.  On the client PC , install and run the remote control software, enter the device ID of the computer that you need to control and then click  "Connect".
Step 3.  Choose "Input security code" and type the security code of your office computer. Finally, click "OK".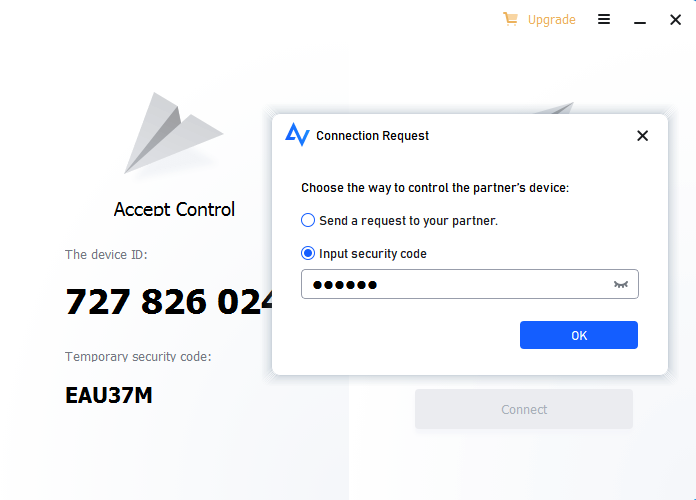 Step 4.  Then you can control another computer quickly. Once remote connection is established, you can open Windows Explorer, Task Manager, and Command Line of the office computer from home and you can also refresh the remote desktop or stop the connection via the top menu.