Can I access my work computer from home?
I have two Windows 10 computers: one in my office and one at home. Now, I want to remotely connect to my work computer from home to access all programs, files, and folders on that PC. Is there a solution for me to access and control the work computer from my home laptop?"
Access work computer from home with a free remote control tool
To access the office PC from your home computer, a remote desktop manager, AnyViewer, is recommended. It works with all versions of Windows 10/8.1 (64Bit and 32Bit).  And its intuitive GUI makes it easy to handle even you are unfamiliar with remote control. You can click the following button to free download it on your office and home computers. 
Step 1.  On your work computer, install and run AnyViewer.  Keep the Device ID of it. Then, go to Settings > Recipient, enable "Set my security code" and type your security code. 
Step 2.  In your home PC, install and run the remote control software, enter the device ID of the work computer and then click  "Connect".
Step 3.  Choose "Input security code" and type the security code of your office computer. Finally, click "OK".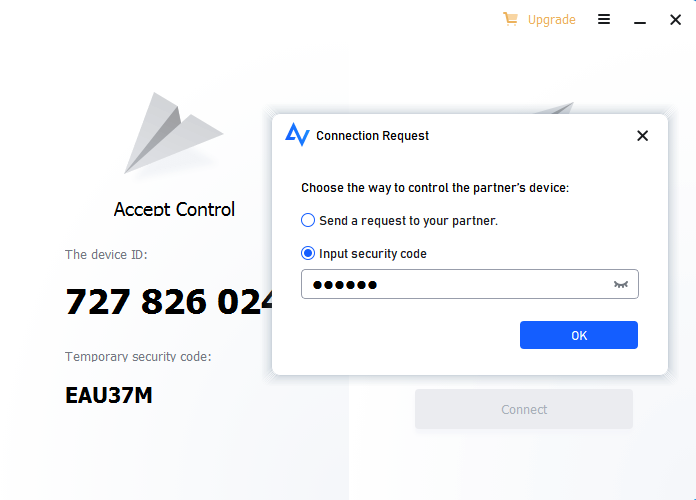 Step 4.  It will connect to your work computer quickly. Once remote connection is established, you can open Windows Explorer, Task Manager, and Command Line of the office computer from home and you can also refresh the remote desktop or stop the connection via the top menu. 
Access work computer from home without third party software
When the work PC holds Windows 10 Professional or Enterprise operating system, the built-in feature, Remote Desktop is a nice choice. You don't need to spend time looking for a third-party utility. Microsoft Remote Desktop can run under multiple platforms, including Windows, Mac, Linux, iOS, and Android. With it, you can easily connect to the work computer from home on the same internet.
Note: When the work computer isn't Windows Professional or Enterprise Edition, you won't be able to use Remote Desktop to access it. If you are using Windows Home Edition, you can upgrade to Professional by costing 99$. Or you can use third-party remote access software to remotely access office computer from home on Windows 10 computer. 
Step 1. Sing into the work computer, click "Start" and choose "Settings".
Step 2. Go to "System" > "Remote Desktop" and enable Remote Desktop by dragging the button rightward. Then click the "Confirm" button.
Note: By default, any user who has an administrative account on the host PC is allowed to access it, thus you need to set a strong password for your administrative account.
Step 3. Remember the name of the office work PC.
Step 4. On the home Windows 10 laptop or desktop, input windows remote desktop and choose Remote Desktop Connection.
Step 5. Input the IP address or the name of the work PC and click Connect.
Step 6. You'll be asked to input the user name and the password that you need to log in. Then, click OK.
Now, you should access your work computer from home Windows 10 laptop. And you'll see the desktop of the remote work computer as if you are in the office. If you need to finish the remote control from home PC to work one, you can click the Close icon to close the connection.
Tip: When your work computer and home computer are not in the same network, you need to be granted by your company remote access to the network via VPN, as most companies have security measures to prevent accessing resources from outside the company network. And you may need to ask the help of the IT member in your company.